Why luxury plus size fashion is worth the investment according to a plus size luxury stylist
The definition of luxury fashion
When people think of luxury fashion, they often focus on expensive items and top designers. However, there is much more to the definition of luxury fashion than simply having an exorbitant price tag. In essence, it's all about having a unique style statement that shows off the wearer's self-expression.
While high-end clothing may be a symbol of status and exclusivity, plus size luxury fashion is also making its presence felt in the world of style. Plus size luxury fashion stylists are redefining the definition of luxury. By creating customized wardrobe solutions for plus size women who want to embrace their curves and embrace their individual sense of style. Through plus size styling events, plus size bloggers and plus sizes on social media, plus size luxury has become a major trend in the fashion industry today as a way for plus sized woman to show off their inner beauty and feel confident about their appearance through clothing that fits them well and lets their own personal aesthetic shine through.
You are making a statement.
When you wear plus size luxury clothing, you are making a statement that you deserve to look your best regardless of your body type or shape – you deserve to feel luxurious in every way! At its core, plus size luxury fashion is about celebrating who you are and embracing your unique sense of style – no matter what others may think or say. Luxury fashion can come in all shapes and sizes – as long as it looks good on you! That is truly the classic definition of true luxury. With plus size luxurious clothing now accessible to everyone, anyone can experience true opulence through perfecting their wardrobe with stylish pieces tailored to fit their body type beautifully. Luxurious fashion doesn't have limits nor boundaries; it's all up to the creative vision of each person wanting to express themselves through fashionable attire!
The benefits of investing in luxury plus size fashion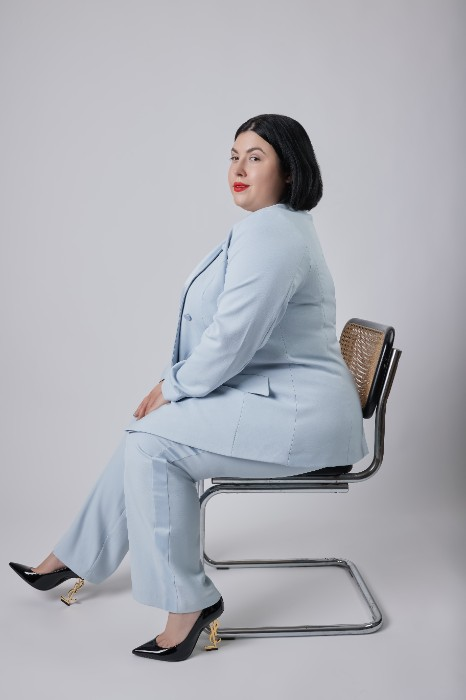 Investing in plus size luxury fashion is not only beneficial to plus size people, but to the entire industry. For plus size people, investing in plus size luxury fashion provides the opportunity to express themselves through stylish clothing, helping them to boost their confidence and self-image.
But it goes further than that; fashion can also be a statement of pride for plus size people, signaling a knowledgeable sense of style and taste as well as an appreciation for quality materials.
Moreover, by investing in plus size luxury fashion, plus size people support plus size luxury fashion stylists and entrepreneurs who have made it their mission to provide options for bigger sized people.
In doing so they help promote body positivity and challenge traditional ideas of beauty while creating financial stability and opportunities within the industry.
All these benefits make investing in plus size luxury fashion a worthwhile investment. Not only does it allow plus size people to dress with confidence and look fabulous, but it also allows them to support an industry which generally caters towards smaller sizes while inspiring others to do the same. Overall, investing in signature pieces can definitely be worth the investment.
How to know if a piece is worth the investment
When it comes to plus size luxury fashion, it's important to invest in pieces that will last. How do you know if an item is worth the investment? As a plus size luxury fashion stylist, I recommend keeping the following tips in mind when deciding whether or not to make that purchase.
Start by assessing the quality of the materials: is it made of top-of-the-line materials or lower-quality options? It's also important to check for comfort and support: does it flatter your figure? Or does it simply look good on the hanger but feel restrictive on your body?
Additionally, consider how well it matches with your existing wardrobe. Ask yourself questions like: Does this particular garment go with other items in my closet, making multiple outfits possible? Answering these questions will help you determine whether or not a piece is truly worth your hard-earned money. Invest wisely, and you'll build up a plus size wardrobe that lasts!
What to look for when buying luxury plus size fashion
When it comes to plus size luxury fashion, discerning shoppers have many things to consider. Quality fabric is of paramount importance, as this will affect the longevity of the garment and ensure that it hangs correctly.
It also helps if you know your measurements and always refer to a size chart when buying online. It's also valuable to seek advice from a plus size luxury fashion stylist who can assist you in finding pieces that flatter your figure.
They can guide you on trends, fabrics, and cuts that complement different body shapes. Fit is key to plus size fashion, so be sure to check out how clothing items look on the model other than yourself; if the item fits the model well then it likely will be a great fit for you too. With these tips in mind, plus size shoppers can find luxury fashion pieces with confidence!
Finally, make sure you read customer reviews and look into the brand's returns policy before making any purchases. A reputable business should offer easy return options for customers who are dissatisfied with their purchase – plus size or otherwise!  By bearing these points in mind, plus size shoppers can find their perfect luxury fashion piece with ease.  Happy shopping!
The cost of luxury plus size fashion and where to find it
Plus size luxury fashion was once seen as unobtainable. However, with more plus size designers joining the market and plus size-focused stylists emerging, that is no longer the case.
There is a wide variety of plus size garments available at many price-points, from high-end designer pieces to secondhand items. Locating garments without spending a fortune can be a challenge. But with some research it can be done.
Many stylists offer virtual consultations and styling service to save on clients' time and money. By providing budget-friendly advice on where to find stylish garments in their size.
With the help of a plus size luxury fashion stylist, even those with limited budgets can find fashionable clothes that fit their body type and reflect their personal style. Whether you're looking for a casual weekend outfit or formal attire for an upcoming event.
How to find your personal style when shopping for luxury fashion
In a nutshell, luxury fashion is defined as clothing that is meticulously designed and well-crafted from high quality materials. It offers the wearer both style and comfort.
Luxury plus size fashion may cost more upfront but it's worth the investment because of its durability. How great you feel wearing it, and how confident it makes you look.
Do your research before making a purchase, invest in key wardrobe staples that will last longer, and take care of your clothes to keep them looking new. When you make the switch to investing in luxury plus size fashion, you won't regret it!
Which brands cater to the plus size luxurious market?
Several luxury brands cater to the plus size market, including Carolina Herrera, D&G, and Dior. These brands offer high-quality garments made from luxurious materials that are designed to flatter and fit a range of body types.
They also often have a wide range of sizes available, making it easy for plus size shoppers to find something that fits them perfectly. Additionally, these brands often have a good reputation for customer service, with easy returns policies in place in case you're not completely satisfied with your purchase. So if you're looking for high-end, well-made clothes that make you feel like a million bucks, then be sure to check out the collections from designers who specialize in plus size fashion!
Why to hire a personal stylist and their styling service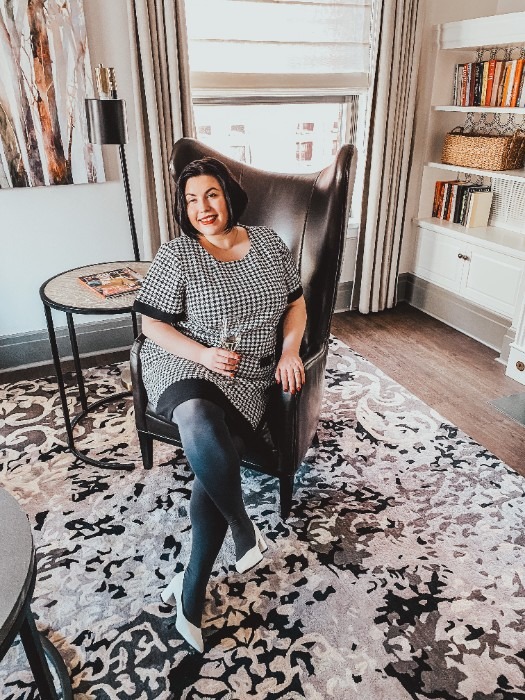 If you're looking to add some luxurious pieces to your wardrobe, it might be worth considering hiring a personal stylist. A personal stylist can help you find clothes that fit well and flatter your figure. As well as advising on current trends and styles that will suit your personality.
They can also help you build a cohesive wardrobe that will last for seasons to come. If you're not sure where to start when it comes to finding a personal stylist, take a look online. Many stylists offer virtual consultations, which can be a great way to get started without breaking the bank. With the help of a personal stylist, shopping for luxury fashion doesn't have to be a daunting task – in fact, it can be downright fun!
I'm your Plus Size Luxury Fashion Stylist Michaela Leitz
As a luxury fashion stylist, I believe that everyone deserves to feel beautiful and self-confident. Regardless of shape or size. My name is Michaela Leitz. I'm an experienced plus size fashion stylist who helps plus-size women find clothing that truly celebrates their unique body type. I understand exactly what plus size women need when it comes to finding flattering trends, timeless styles and unique pieces to really turn heads on the streets.
What sets me apart from other stylists is my holistic approach to styling. I focus not just on the physical but also the psychological aspects of body confidence. My styling service consists of carefully curated lookbooks, custom-tailored fashion advice. Plus a selection of exquisite accessories that can transform any outfit into something truly luxurious and one-of-a-kind.
With my help plus size women will be able to dress like never before. With extra confidence and pride – in every single outfit they wear! Ready to take your wardrobe up a notch? Contact me today and let's get you looking and feeling amazing all year round!
Also I invite you to follow me here on Instagram for more inspiration on luxury plus size styling